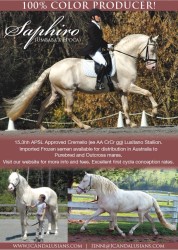 Saphiro's breeding season in the USA is winding down just as the season in Australia is getting ready to begin! Now is the time to exsecute your contract if you are an Australian mare owner. We are coming up on our fifth season with International frozen semen in Australia with excellent first cycle conception rates
2015-2016 Australia contracts are now online!
Take advantage of early contract savings through August 20, 2015! Earlybird, repeat client and multiple mare discounts can be combined for the greatest savings!
About Saphiro
2015-2016 contracts, fees, and FAQ
Read More
JC Mariana has been confirmed in foal to Saphiro for a 2013 foal. This will be her first foal, and the second JC Andalusians mare bred to Saphiro. This 2013 purebred foal will carry a cream gene from Saphiro and will be buckskin or palomino. Since JC Mariana is heterozygous grey, her foal will have a 50% chance of greying. This foal is available for sale. Please check out our Sales page for information on in-utero purchases!
Read More