Our foals are beyond friendly, they are curious, intelligent and mindful of boundaries. Although greatly loved, our foals are never spoiled. They are athletes and friends, looking for soul-mates.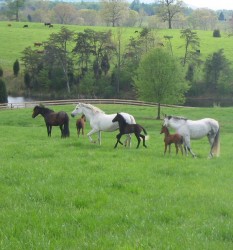 From conception on our foals receive the best care and nutrition. Our foals have been selectively bred for their conformation, movement and of course; temperament. We are not trying to recreate the breed. Our foals are true to type and are balanced and correct. They are used to time in the stable but are turned out in a herd enviroment with plenty of room to grow, run and play. They are worked with several times per day and are way beyond their years with life experience by weaning time.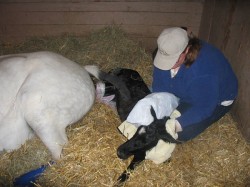 Our foals are born in extra large foaling stalls which are monitored with surveilance cameras and directly below the loft where a makeshift bed sits ready for the late night "foal watches". Our foals are handled extensively at birth, however, unlike traditional imprinting, as soon as the foal is ready to stand we allow them their first meal. An attendant (usually Jenni) stays in the stall for a minimum of the first 6+ hours post birth. Thereafter they are handled hourly, confirming lessons learned early on. Our foals are accustom to human presence and are amazingly accepting of anything we ask of them.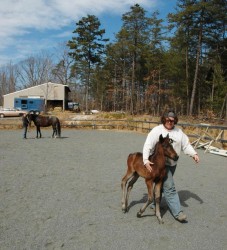 Depending on the time of day or night the foals are born they are usually around 12-18 hours old when they experience their first lessons outside of the stall. These include body leading and obstacles we set up in the arena. Although our foals are used to and accept a halter, our foals are led without a lead or butt rope. Our foals willingly learn to stay with us by our body language and hand positions alone. While we have developed an easy order of learning each foal is, and is therefore treated as an individual. They each learn at their own pace, however we have found their ability to process information as they grow to be better than foals that have not received this early learning. Follow up is the key. Our foals aren't handled extensively then left on their own. Their life lessons are repeated and become part of their daily routine.
The transition to leading is practically effortless when the lead and butt rope are used for guidance at 2 days old. By 4 days old, our foals lead independantly of their dams, have already been accustomed to clippers, tarps, bags, noises, loading in a trailer, baths and walking up the road in front of mom.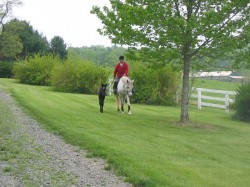 Depending on when the dam is ready (usually around 10 days-2 weeks post foaling) our foals learn to pony off of their mothers. This allows us to go on many adventures. They fearlessly confront ditches, small logs, creeks, ponds, rivers, deer, cows, dogs, traffic and other "natural obstacles" while being led on the trails either in hand or off of their moms. By 3-4 weeks old our foals leave their mom's at increasing intervals to be worked with alone on the trails or in the ring. Separation is done slowly and can be done safely as we know the limits of both our mares and our foals incredibly well.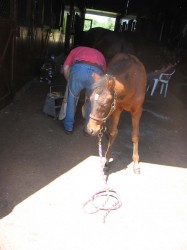 By 6-8 weeks old our foals can work completely independant of their dams for fairly long lengths of time, whether to work with the foal, or to now leave the foal behind while mom is worked (as all of our mares are also our riding and show horses). Again, we are able to do this safely because we know the limits of our individual mares and foals. At this age our foals quietly tie, cross tie and ground tie. Our Vets and farrier love them!
Closer to weaning, our foals are separated for longer periods of time during the day. For several weeks prior to weaning mom and foal spend the entire day separated and are turned out together at night. This slow weaning builds their independence, weaning is less stressfull on both the mare and foal and mom produces less milk as weaning approaches. As you can imagine, permanent weaning (which we do around 4-5 months of age) is just another day. Drying up our mares is easy and trauma is eliminated. Our foals don't look back.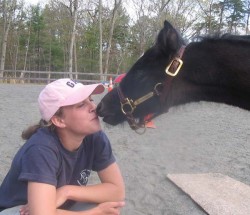 Our foals are beyond friendly, they are curious, intelligent and mindful of boundaries. Although greatly loved, our foals are never spoiled. They are  athletes and friends, looking for soul-mates.
We screen prospective buyers and take our statement "we sell to approved home only" seriously. When possible we will visit your farm. References are always checked and we sell all of our foals on a right of first refusal contract. (We are more than happy to also provide references on ourselves). Jenni is here to support new foal owners for the rest of that foals life.
Please call to discuss what you are looking for so that we may best match you up with your new best friend, whether you are looking for an upper level show horse, companion, pleasure mount or soul-mate). When ready, schedule an appointment to visit if you are interested in one of our foals so that our foals might pick you for their forever home. Our main objective is pairing our foals with the most appropriate home, while prices are firm, flexible payment options are available.
For more information on our horses or to schedule a visit, please contact us!